Official websites use .mil
Secure .mil websites use HTTPS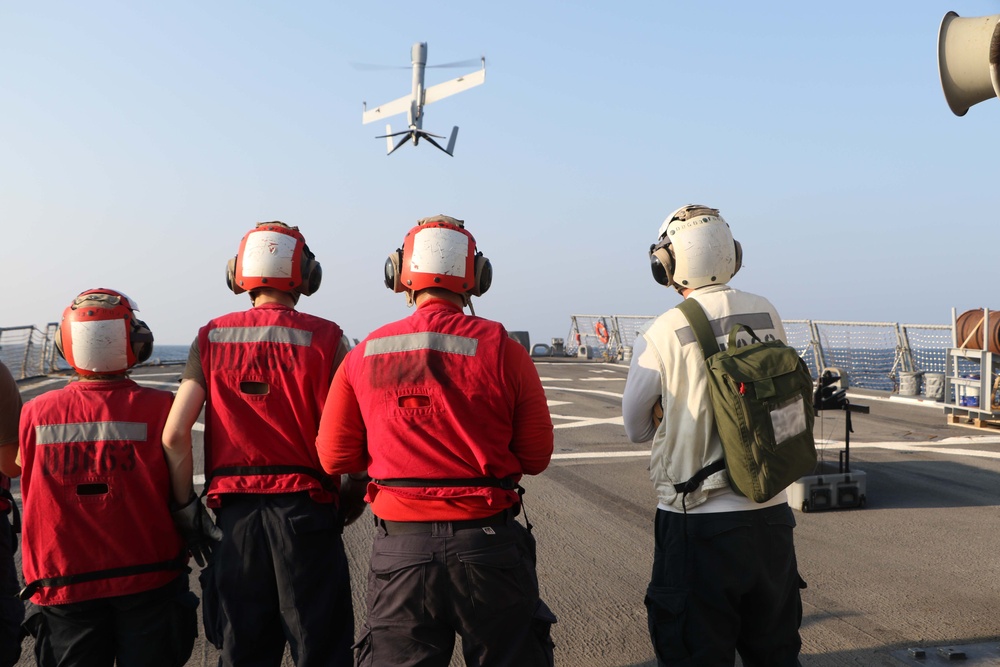 MANAMA, Bahrain – The Arleigh Burke-class guided-missile destroyer USS Stethem (DDG 63) recently demonstrated expansive maritime domain awareness, utilizing Flexrotor unmanned aerial vehicles during operations in the Gulf of Oman, Nov. 8-9.

he UAVs, part of U.S. Naval Forces Central Command's Task Force 59, put a highly capable intelligence, surveillance and reconnaissance (ISR) capability in the hands of Sailors at sea. Flexrotor's high endurance and vertical takeoff-and-landing capabilities make them particularly well suited for the task of building an accurate maritime picture, said Capt. Colin Corridan, Task Force 59 commodore.
"Our warfighters require innovative methods for gaining a deeper understanding of the operating environment," Corridan said. "The ISR capabilities of these UAVs greatly expand our sight picture and help us better monitor what's happening in the region."
Flexrotor provides complete autonomous flight following takeoff, with a wide communication range and the ability for around-the-clock ISR coverage. It can be used day or night by U.S. and coalition partners for a wide range of intelligence, surveillance, target acquisition and reconnaissance operations over land and sea.
Flexrotors played an integral part in recent operations where it integrated with 12 different unmanned platforms for "manned-unmanned teaming" operations, tracking Iranian Navy and Islamic Revolutionary Guard Corps Navy (IRGCN) ships and small boats over several days during routine patrols in and around the Strait of Hormuz.
The operations aboard Stethem built on the strength of that operation, Corridan noted.
"The Sailors aboard Stethem and from Task Force 59 are strengthening maritime security and stability through the use of Flexrotor, deterring malign activity by bad-faith actors," he said. "As these capabilities expand, we're going to be able to gain more information more quickly to be able to make faster, smarter decisions."
U.S. Naval Forces Central Command/U.S. 5th Fleet's area of operations encompasses about 2.5 million square miles of water area and includes the Arabian Gulf, Red Sea, Gulf of Oman, Gulf of Aden, Arabian Sea and parts of the Indian Ocean. This expanse, comprising 21 nations, includes three critical choke points at the Strait of Hormuz, the Suez Canal and the Strait of Bab al Mandeb.
Subject specific information for the media
Events or announcements of note for the media
Official Navy statements
Given by Navy leadership
HASC, SASC and Congressional testimony
Google Translation Disclaimer
Chief of Information
Attn: US Navy
1200 Navy Pentagon
Washington DC 20350-1200